Mezzanine Floors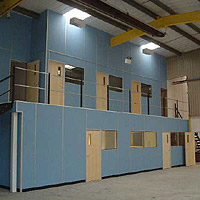 When you run out of space or storage capacity and have no wish to invest in substantial relocation costs, then a Mezzanine floor may be the answer.
At a fraction of the cost of relocating, a Mezzanine floor is a fast and effective way of utilizing wasted space, for offices or storage space.
Creative Space Solutions Ltd has many years of experience in installing Mezzanine floors.
We are able to take the contract from the design stage through approvals from Building Control, Planning, Fire Officer, and finally to full installation giving you peace of mind and allowing you to concentrate on running your business.
Gallery